Lily from Pea Pottery is a small batch ceramicist from Henley-on-Thames. All of her ceramics are hand thrown, each one with its own individuality and quirks. This limited edition five-piece collection for GRAPE & Fig has been designed to be not only functional, but beautiful too. 
This piece is perfect to hold olives, hummus, pesto, chutney, and so much more!
Each piece has a Pea Pottery x GRAPE & Fig stamp on the bottom. Not suitable for the dishwasher, please handwash. 
Separate pieces are currently only available (as an add-on) for local delivery. Only full/partial collection is available for nationwide delivery.
The Pantry
Need plates and cutlery? Want some honeycomb for your cheese? Complete your order with items from our pantry.
Cheese Knives (Set of 3) $33.00
GRAPE & Fig Sweet Onion Chutney $5.00
Palm Leaf Plates (Set of 25) $33.00
Cutlery (Knife, Fork, Spoon) & Napkin (Set of 25) $33.00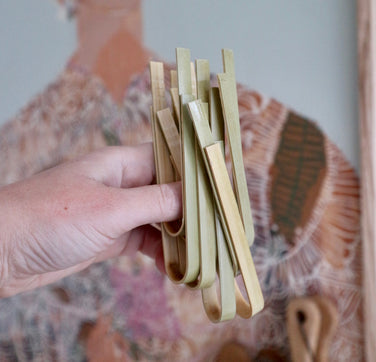 Mini Bamboo Tongs (Set of 10) $6.00
Peter's Yard Crackers $5.00
Bottle of Amie Wine $21.00