Pure luxurious indulgence in every, single bite. This handcrafted, signature festive wreath is made from a huge slab of rich, fudgy chocolate brownie, enriched with gooey salted caramel for that intense sweet and salty flavour burst. Topped with chocolate ganache, fresh & dried fruit & garnish.
ps. we also give you a box full of the 'wastage' brownie that we've cut away to make the wreath shape!
See below for more details.
Details / Menu

As our produce is sourced daily & garnishes can be seasonal they are subject to availability & substitutions, especially edible flowers.

Comes With

Comes ready to eat, on a wooden board, in a beautiful protective box with allergy sign & menu

Platter boxes are 42 x 34 x 7cm & therefore are easily refrigerated.

Feeds

Feeds 10-15+, depending on portion size. All platters are intended for appetiser portions.

Dietaries & Allergies

Please notify us of any allergy or dietary requests at checkout, however we cannot accommodate special allergy requests due to high risk of contamination.

Delivery & Collection

Available for collection from our shop (RM1) and hand-delivery only within our delivery range (within most of M25 & Essex). Please read our Delivery T&Cs for more information.

Have a Question?

Please email orders@grapeandfig.com if you have any questions & a member of the team will get back to you within 24 hrs.

Why Grape & Fig?

GRAPE & Fig - the first grazing catering company in the UK - was founded by Toria Smith in 2017. Her initial inspiration came whilst planning her wedding the previous year, when she quickly realised there was a huge gap in the market when it came to wedding food. Instead of stuffy & expensive canapés, Toria wanted to feed her guests with a four metre-long grazing table (full of the finest cheeses, cured meats, antipasti, dips & accompaniments) which would serve as canapés & starters combined.

At this time, the 'grazing craze' was huge in Australia (which she'd seen first hand in Byron Bay in 2013 whilst travelling) but hadn't yet made it's way to the UK. So starting with her wedding she introduced grazing to the UK & her initial passion project gained incredible momentum & has grown into the brand that is now loved and adored - GRAPE & Fig.

In Spring 2019 Toria welcomed her sister Catherine into the business & the pair have since taken the business to the next level with a new focus on diversifying the concept of 'edible art' into a stunning selection of products, as well as teaching others how to create the perfect grazing platter at home using 'The 6-step GRAPE & Fig Platter Method'.

Adored by celebrities, global brands & gathering-lovers alike, we won't be beaten on quality, attention to detail or value. Whether you're looking for food for personal indulgence, a special gift, intimate gatherings, large celebrations or a brand 'moment', trust us, there's nothing quite like GRAPE & Fig.
The Pantry
Need plates and cutlery? Want some honeycomb for your cheese? Complete your order with items from our pantry.
Cheese Knives (Set of 3) $33.00
GRAPE & Fig Sweet Onion Chutney $5.00
Palm Leaf Plates (Set of 25) $33.00
Cutlery (Knife, Fork, Spoon) & Napkin (Set of 25) $33.00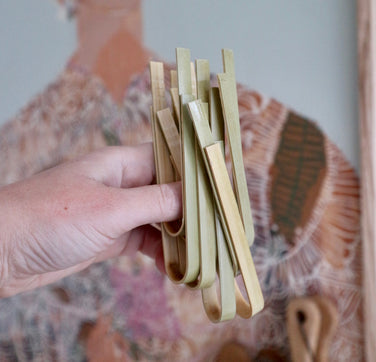 Mini Bamboo Tongs (Set of 10) $6.00
Peter's Yard Crackers $5.00
Bottle of Amie Wine $21.00